Ready, set, stream. TCL 20L's 6.67-inch FHD+ Dotch display can bring the ultimate viewing experience.
Your visuals are made truly cinematic with NXTVISION and HDR enhancement.
Adaptive brightness, an array of viewing modes and TÜV Rheinland certifications keep you viewing comfortably for your longest marathons in any environment.

Dual speaker design gives you audio as powerful as your visuals, while Floating Window Mode lets you multitask while you watch.
Cinema-sized views
TCL 20L has more screen and less filler so you can enjoy cinema-sized viewing.
A 6.67-inch FHD+ Dotch display boasting a 91%¹ screen-to-body ratio and 20:9 aspect ratio provides seamless, edge-to-edge visuals so you're completely immersed in what you love. Sharp 2400 x 1080 resolution lets you appreciate every detail.
Awe-inspiring visuals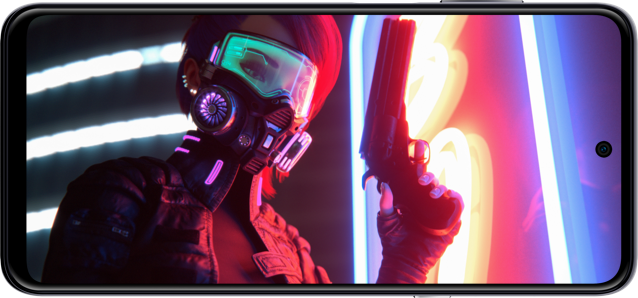 Vibrant color, crisp clarity and sharp contrast create an awe-inspiring visual experience in real time through the power of NXTVISION visual technology.
Next-level video
Watch video from any source in the highest quality with HDR enhancement. Colors are amplified, contrast is enhanced and details are sharpened for a gripping streaming experience.
Effortless clarity
Go from soaking up the sun to relaxing in a darkened room without having to adjust a thing with TCL 20L's adaptive brightness. It automatically adjusts to you environment with a range of one to 500 nits, so you get perfect, clear viewing every time.
Maximum multitasking
Stream, browse and message simultaneously with TCL 20L's Floating Window Mode.
Swipe an app into an ultra-customizable floating window so you can multitask in the way that works best for you. Expand the window out or shrink it down.
Switch between horizontal and vertical layouts. Minimize it down to an icon or move it anywhere on the screen. The choice is yours.
Complete visual comfort
Know your visual wellness is protected during your longest screen sessions with TCL 20L's TÜV Rheinland Circular Polarization and TÜV Rheinland Low Blue Light certifications.

The first generation of TÜV Rheinland Circular Polarization certified display provides you a natural-like light that reduces more than 85% eyestrain³.

Guard you vision and sleep cycle with a TÜV Rheinland Low Blue Light certified display that removes harmful light by 13% while maintaining the rich color of your visuals.
Versatile viewing
Your screen is ready for any situation with TCL 20L's array of viewing mode. Browse late into the night with Grayscale Mode that's gentle on your eyes.

Dive into your latest page-turner on a paper-like display with less strain using Reading Mode. Sleep deeply and protect your eyes with Eye Comfort Mode that reduces your exposure to harmful blue light.
Stereo sound
Specially designed for landscape mode viewing, TCL 20L's dual speakers provide you powerful, unconstrained audio that completely surrounds you.